It's mid-June and in the world of Print-on-Demand, July 4th is the holiday that's selling now. Although our new Independence Day designs were created over a month ago (or more) the sales for 4th of July parties are going strong (at least with those who plan ahead).
We try to add new Independence Day designs each year to add to our inventory. So get the lawn chair and a cold drink, here's a wrap-up of our latest holiday products: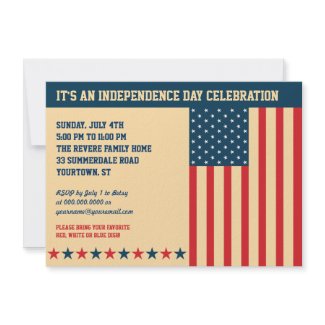 This invitation shows the US Flag in a different way by hanging vertically from the blue banner on top with the field of stars hanging to the left all against a modern cream colored background. A rich blue banner displays the Independence Day message with all text printing to the left of the flag. A row of stars in red and blue finish off the invitation. Great for a bbq, pool party or whatever July 4th may bring.
This invitation also has the option of displaying the flag in a horizontal orientation shown below.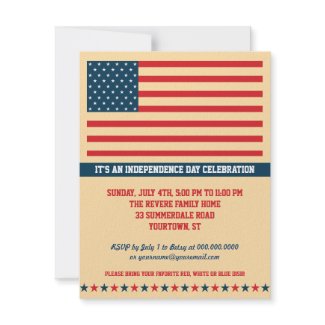 Zazzle recently released a new product. Melamine plates! These are perfect for any party, especially a BBQ or picnic,
I like this one. It conveys patriotism in a small place but it's not too overtly flag-waving and marching band-type patriotism.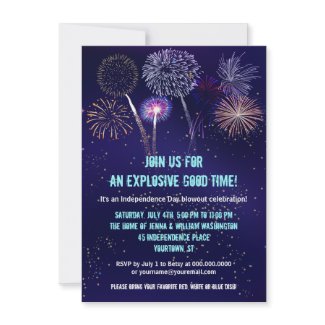 Explosions of fireworks light up the starry night sky on this sparkling Independence Day party invitation.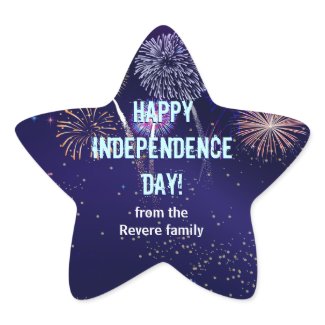 A field of stars against a rough light blue background highlights your Fourth of July, Memorial Day or Labor Day party information on this invitation to set the patriotic mood.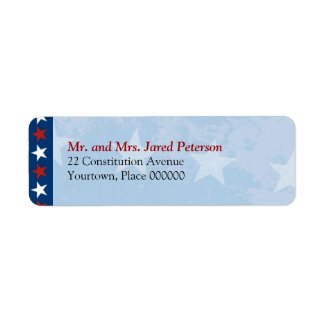 Thanks for stopping by and here's wishing everyone a very happy Independence Day. (er... that would be for those in the US, if you're outside of the US, enjoy your summer!)